Product Description
Autel MaxiPro MP808K Diagnostic Tool OBD2 Scanner with Bi-Directional Control Key Coding (Same as DS808)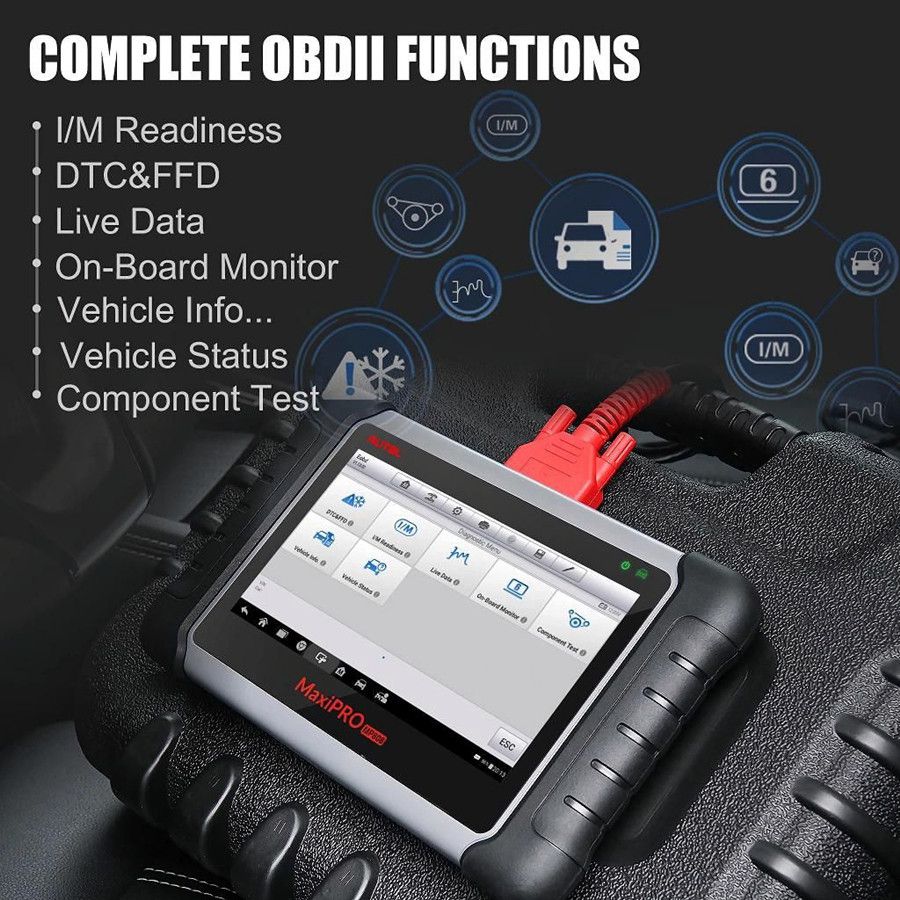 Autel MaxiPRO MP808K based on the Android operating system, MaxiPRO MP808K is featured with an extensive coverage of OE-level diagnostics. Installed with a fast quad-core processor, MP808K offers maximum convenience and efficiency for your diagnosis and analysis. The intuitive user interface makes using the device effortless through a 7-inch LCD touchscreen that displays at 1024 x 600 quality. Autel MP808K has the same functions as MaxiPro MP808 but comes a kit of adapters.
Autel MaxiPro MP808K Features:
1. Extensive vehicle coverage for more than 80 US, Asian and European vehicle makes.
2. Exceptional OE-Level system coverage for all electronic systems.
3. Complete capabilities for codes, live data, active test, ECU information, adaptation, matching, etc.
4. Smart AutoVIN technology for identifying vehicles easily
5. Automatic system and software updates with real-time push message notifications via Wi-Fi.
6. Instant remote control tech support anytime, anywhere.
7. Cloud-based MaxiFix online community provides a vast database of diagnostic and repair tips and proven filed fixes.
8. Interactive Data Logging sessions enable direct contact with Autel Technical. Support for first-hand troubleshooting of diagnostic bugs and errors.
9. One-stop multitasking designed for ideal management of workshop operations to keep all data files, customer info, and vehicle records well organized.
10. Convenient data management system for managing internal program applications and reviewing data.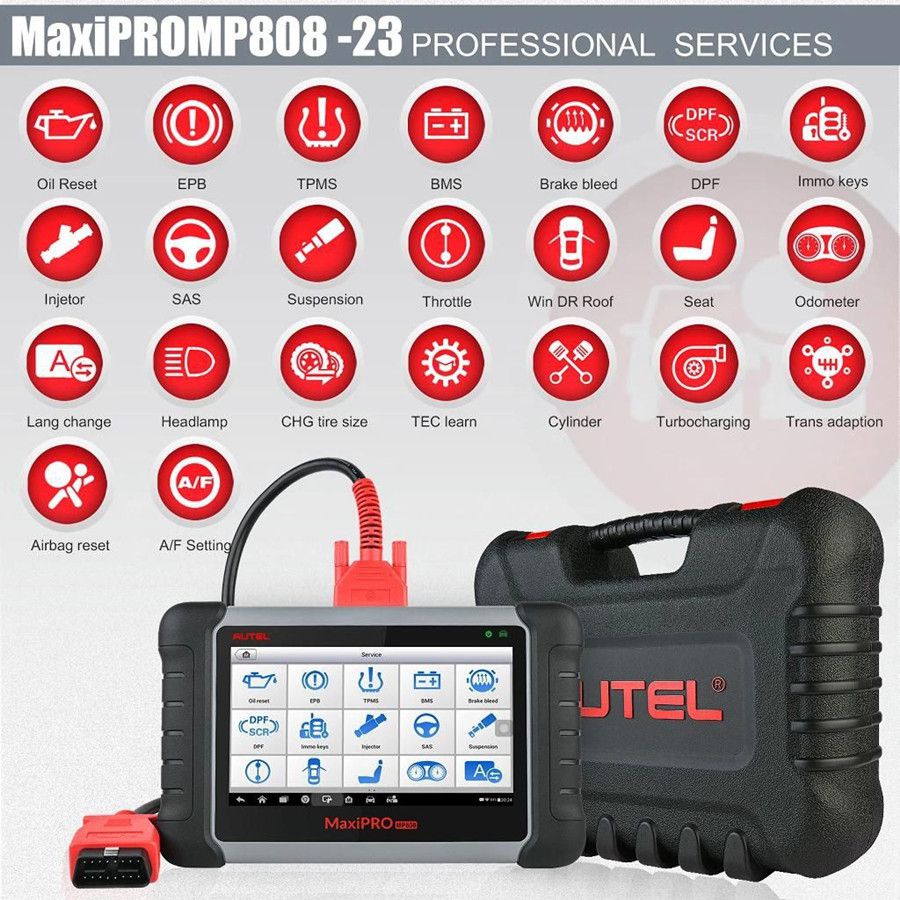 Top Reasons to get Autel MaxiPRO MP808K
1. Autel MP808K Full System Diagnostics with Bi-directional Control
The MP808 supports four methods for vehicle identification: Auto VIN Scan, Manual VIN Input, Automatic Selection, and Manual Selection, through which you're able to access all the diagnosable ECUs on the vehicle and run diagnostics on the selected system. With the bi-directional control, it's easy and quick for you to identify the problems as the diagnostic tool is able to transmit control commands to operate the vehicle systems and tell you the running conditions.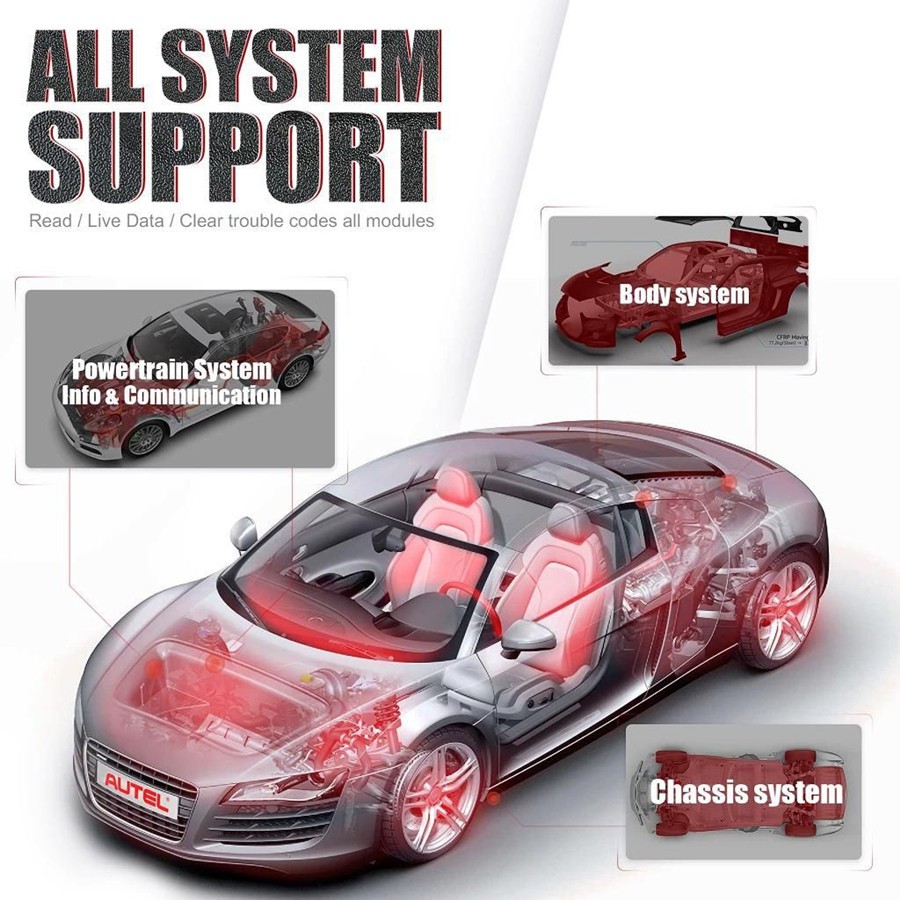 2. Autel MP808K Powerful Special Services for Reset Performing
Autel MP808K diagnostic scanner is a professional tool aiming at providing mechanics and DIY enthusiasts with access to the systems to perform various maintenance and services.
Oil Service Reset
– MP808K performs reset for the Engine Oil Life system, which calculates an optimal oil life change interval depending on the vehicle driving conditions and climate, and turns off the warning light;
TPMS Service
– MP808K quickly looks up the tire sensor IDs from the vehicle's ECU, as well as to perform TPMS programming and reset procedures after tire sensors are replaced;
EPB Service
– MP808K initializes the throttle actuators to the default state for regulating throttle (or idle engine) operations accurately;
ABS/SRS Services
– MP808K performs various bi-directional tests to check the operating conditions of both the Anti-lock Braking System and the Supplemental Restraint System;
SAS Service
– MP808K performs steering angle adjustment, clears steering sensor fault memory and turns off steering wheel warning light;
DPF Regeneration Service
– MP808K clears particulate matter from the DPF filter to stabilize the filter performance.
And much more…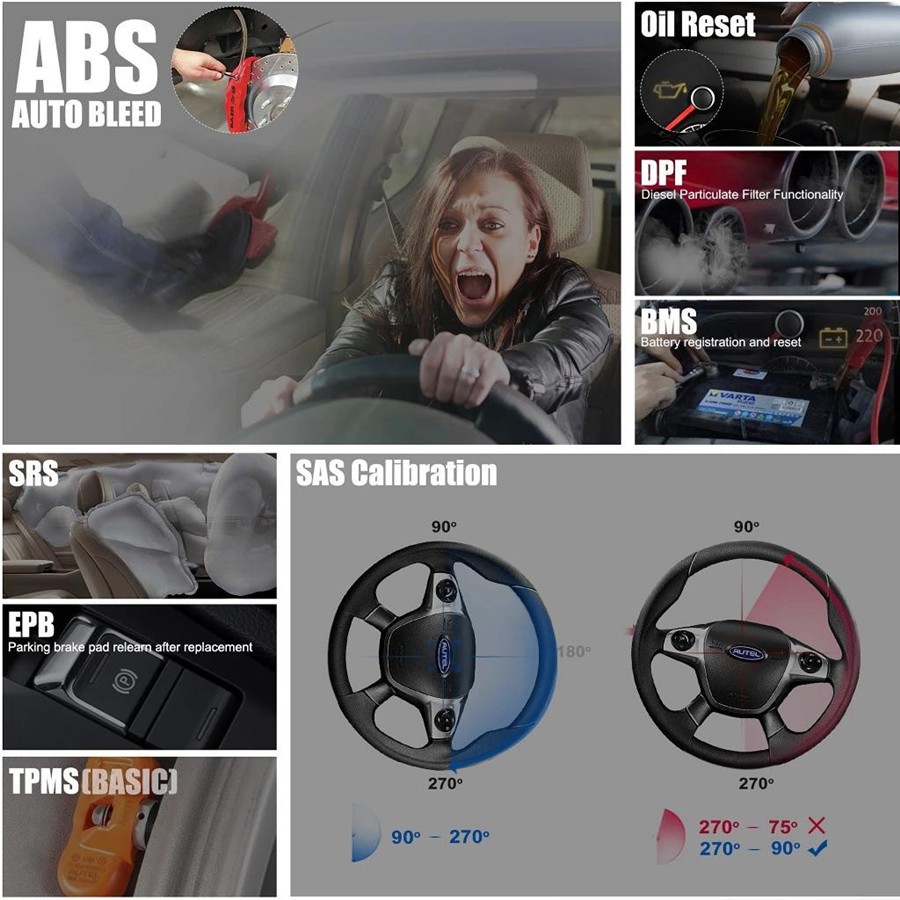 3. Autel MaxiPro MP808K supports Add Keys and ECU Reading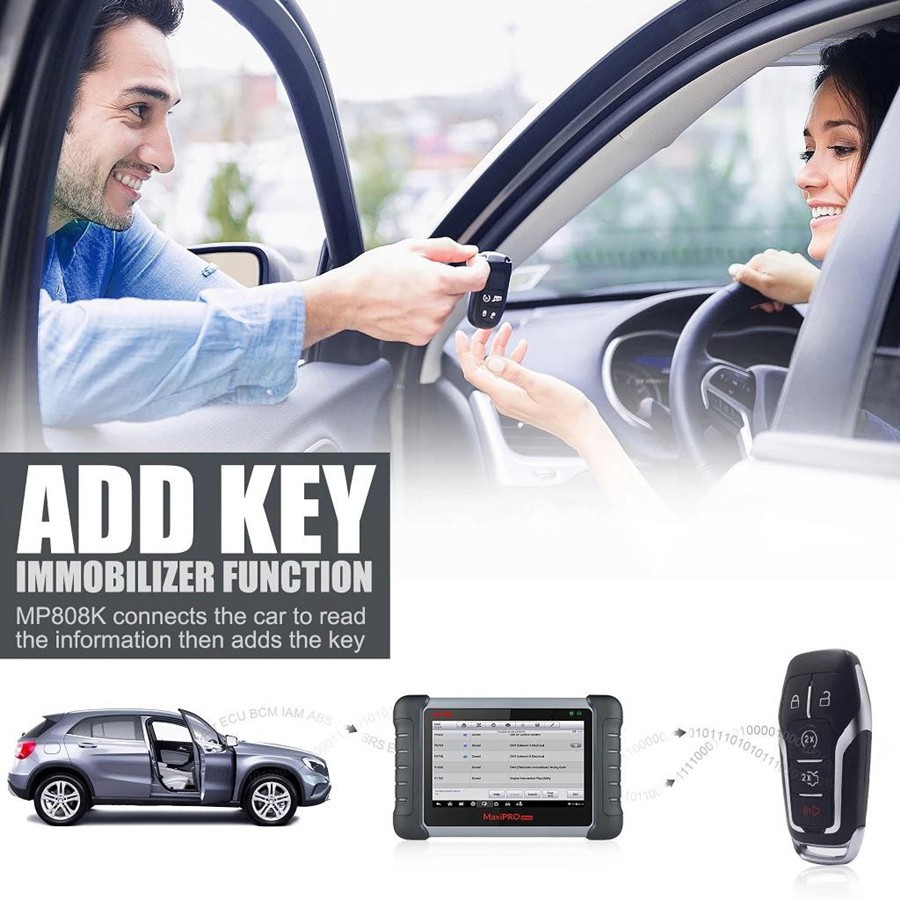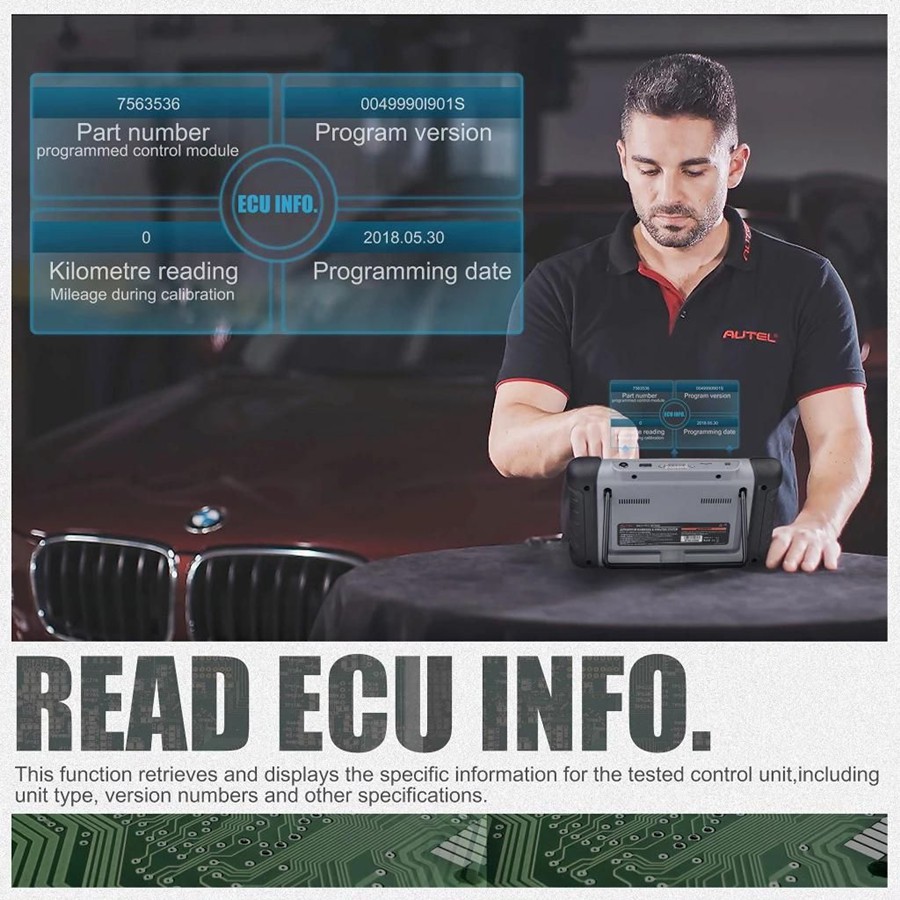 4. Autel MaxiPro MP808K Supports Active Test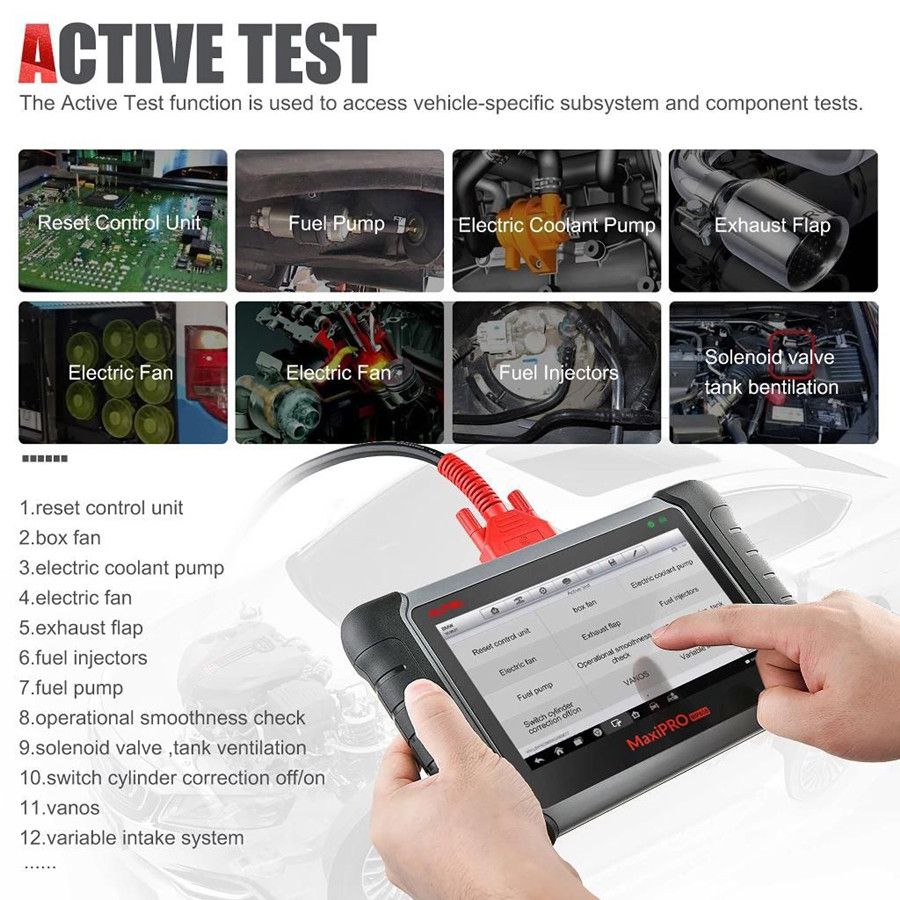 5. Autel MP808K Helpful Functions For Mechanics & Auto Repair Shops
*
MaxiFix
– Autel MP808K comes with an online troubleshooter database that provides you with all common DTCs database for most vehicles and allows you to network with other users.
*
Remote Desk
– MP808K works with TeamViewer Quick Support to enable you to receive ad-hoc remote support from Autel's support center, colleagues, or friends, by allowing them to control your tablet diagnostic tool on their PC.
*
Shop Manager
– MaxiPro MP808K owns an application that helps you deal with the daily workshop business and improve customer service by helping you manage the workshop information, customer information records, and much more.
*
Data Manager
–MP808K Supports to store, print, and review the saved files.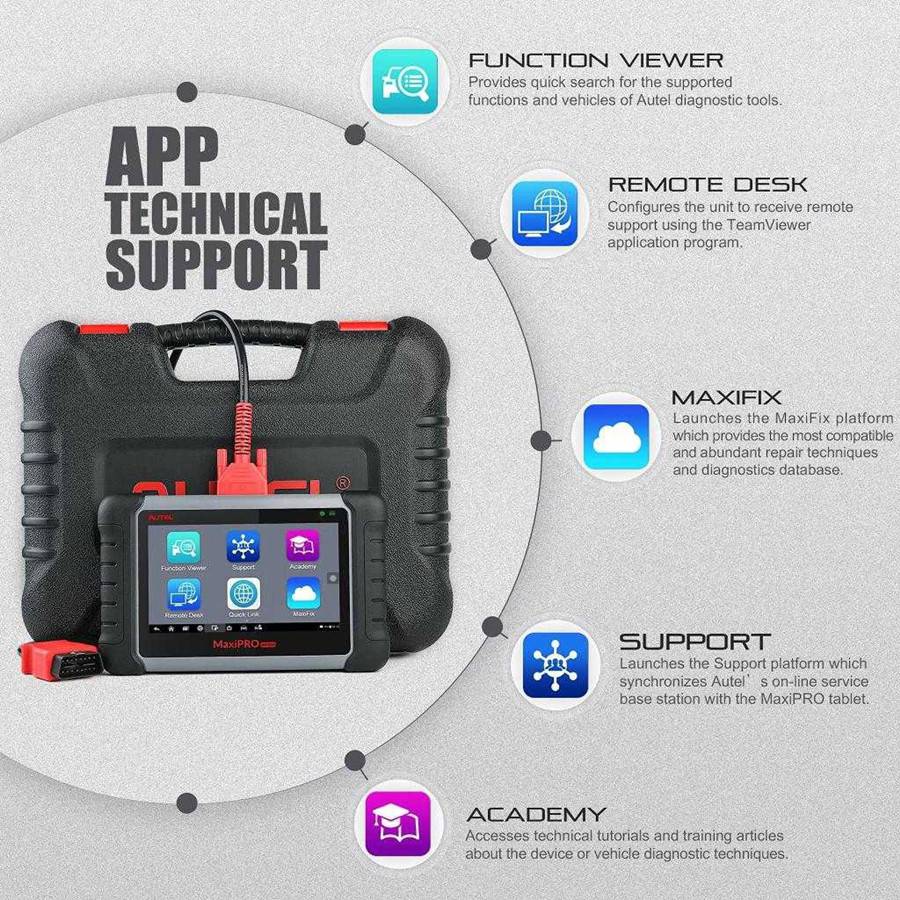 6. Autel MaxiPRO MP808 Kit vs Autel MaxiDAS DS708 / DS808
Autel MP808K is the upgraded version of MaxiDas DS708 and has the same functions and features as the Autel DS808, but at a lower price than DS808. It provides either the mechanics or the DIY enthusiasts a great solution for the vehicle troubleshooting as it is competitively priced and has most of the advanced functions required.
7. Autel MaxiPro MP808 Kit Support Multi-language
English, Traditional Chinese, French, German, Spanish, Portuguese, Dutch, Polish, Swedish, Korean, Japanese, Russian, Italian.
8. Autel MaxiPro MP808K Supports One Year Warranty & One Year Free Update, refer to Autel MP808 Update.
Autel MaxiPRO MP808K Specification:
1. Operating System: Android 4.4.4
2. Processor: Cortex-A9 processor (1.5 GHz)
3. Memory: 32GB
4. Display: 7-inch LCD capacitive touchscreen with 1024*600 resolutions
5. Connectivity: Mini USB 2.0 /USB 2.0 /Wi-Fi / Micro SD card (supports up to 32GB)
6. Sensors: Ambient light sensor for brightness auto changing
7. Audio Input/Output: Input: N/A Output: buzzer
8. Power and Battery: 3.7 V/3200mAh lithium-polymer battery charges via 5 VDC power supply
9. Tested Standby Time: Around 4.5 hours of continuous use
10. Battery Charging Input: 5 V /1.5A
11. Power Consumption: 500 mA (LCD on with default brightness, Wi-Fi on) 3.7 V
12. Operating Temp: -10 to 60°C (14 to 140°F)
13. Storage Temp: -20 to 70°C (-4 to 158°F)
14. Operating Humidity: 5% - 95% non-condensing
15. Dimensions (W *H * D): 237.8 mm (9.4") *148.6 mm (5.9")*35.5 mm (1.4")
16. Net Weight: 788 g (2.42 lb.)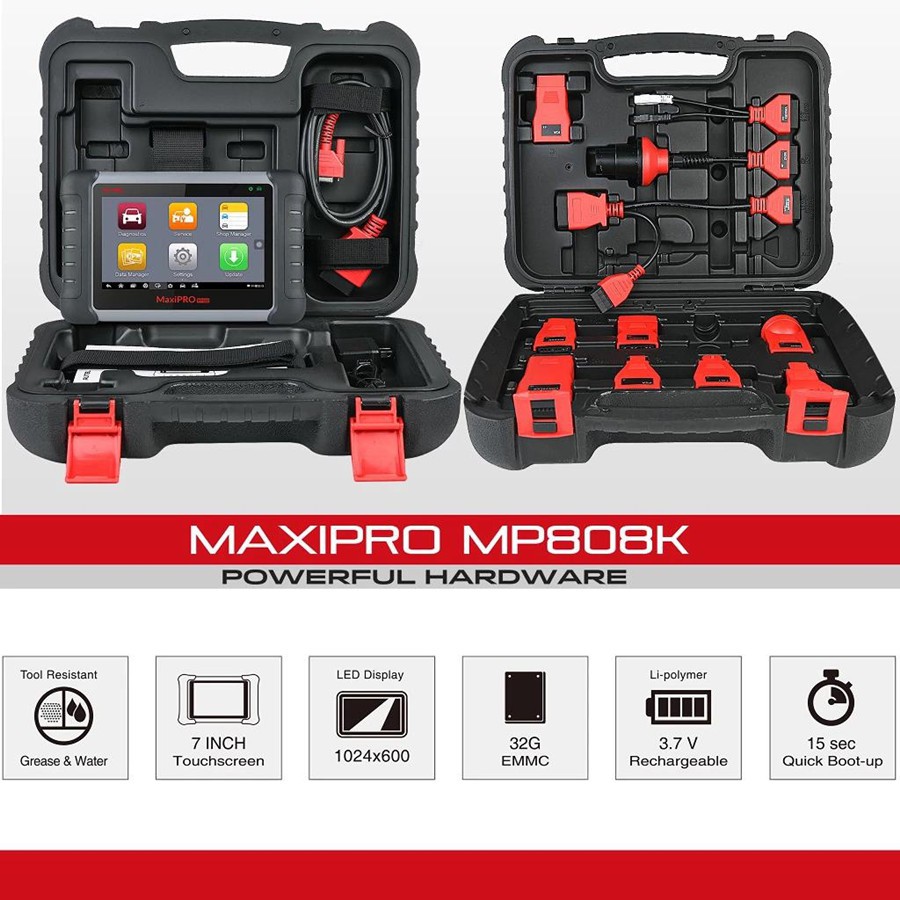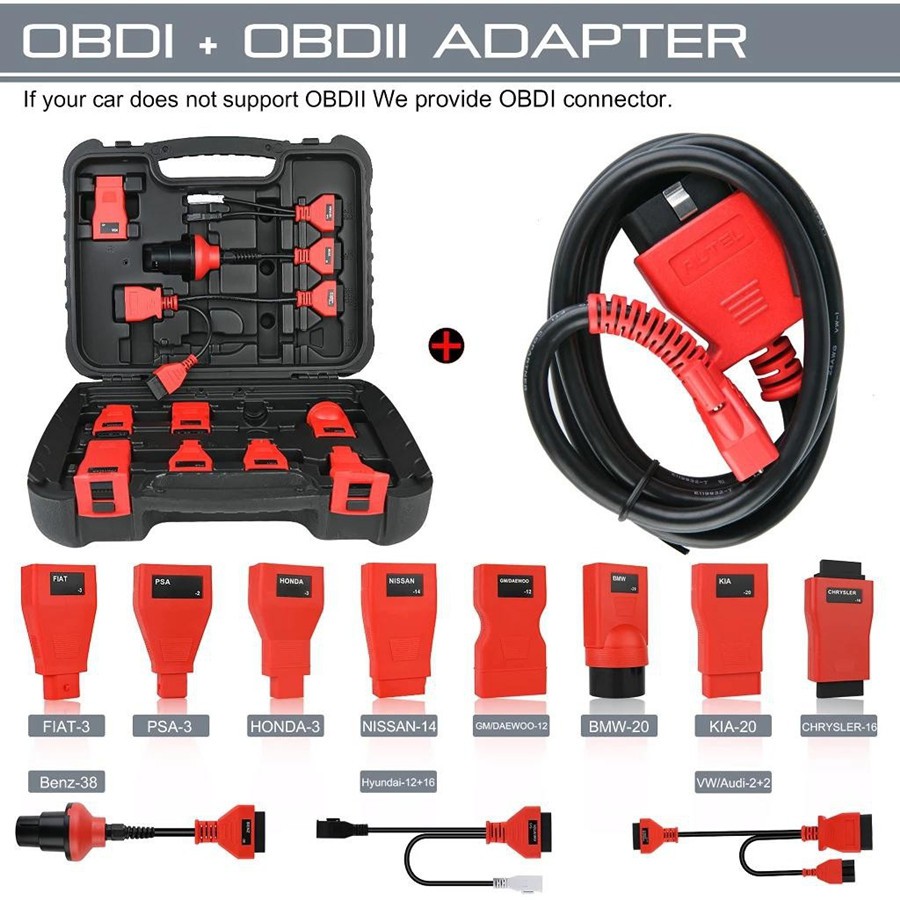 Package includes:
1PC x MaxiPro MP808K
1PC x Power Adapter
1PC x Mini USB Cable
1PC x Main Cable
1PC x User Manual
1PC x Quick Reference Guide
1PC x for Benz-14 (for EU Version)
1PC x for Chrysler-16 (for US Version)
1PC x for BMW-20
1PC x for Kia-20
1PC x for Nissan-14
1PC x for GM/Daewoo-12
1PC x for Honda-3
1PC x for VW/AUDI-2+2
1PC x for Mitsubishi/Hyundai-12+16
1PC x for Benz-38
1PC x for PSA-2
1PC x for Fiat-3
1)DHL Shipping and Other Express Service:
Take About 5-7 working days
DHL will be the default delivery method
To help you clearance we will help declare a lower price on the invoice to help clearance.
If address is remote area, you need pay remote freight 45 USD or we will ship by Normal Post or Yanwen/EMS/Aramex Express.
For some eu countries, there might be customs duty problem, if you have any special rquest on this, you can email to inform us your suggestions.
2)Yanwen Express:
Take About 7-10 working days, No Tax Problem
Usually No Tax for European Countries or Remote Area. The tax was pre-paid, when package reached, there's no tax no extra fee for customers.
Due to high custom tax in European Countries, Like Canada, Germany, Greece, Romania, Sweden, France,etc, we will use Yanwen express as first option, if you will need faster DHL shipment, please contact us, thank you.
3)Normal Registered Airmail Post way
Take About 10-16 working days, Sometimes will be 20 days.
Registered Airmail Includes Netherlands Post, USPS Post, Singapore Post, Hongkong Post, etc
Order amount less than 150USD, and package weight less than 2KG will be sent by Registered airmail.
But if you feel it is really slow, and want us to send by DHL, you can choose "Premium Delivery" and pay for the extra shipping for express service. finally we will send it by DHL.
2. UK, US, EU Warehouse Shipping:
Item title marked "Ship from US"
Take About 3-5 working days, Free TAX, faster shipping with cheaper price.
Note: If US/UK Stock sold out, your order will be shipped from China via DHL or YANWEN (No Tax) by default.
We have stocked up hot sale items in US, UK, Amazon US, and EU Warehouse, which is more convenient for you.
EU Warehouse was located in Germany/Czech and it only can ship to EU country:
Germany, France, Spain, Netherlands, Finland, Sweden, Austria, Belgium, Bulgaria, Croatia,
Czech Republic, Denmark, Estonia, Greece, Hungary, Ireland, Latvia, Lithuania,Luxembourg,
Malta, Poland, Portugal, Republic of Cyprus, Romania, Slovakia, Slovenia,5-7 DaysRoyal Mail/ DHL
After-sale service:
We can offer you lifetime customer service and tech support.
If you have any problems, please Provide error image or video to show the problem, and kindly describe it in detail, technician will try their best to help you solve the problem. If there are no solution, you can return it for refund or get a new one for replacement.
For any question, please contact us at:
OBD2EShop OBDII tool online supplier
Accepting bulk purchases, We can Offer you wholesale price.
OBD2EShop is a OBDII tool online supplier providing best-quality ECU chip uning tools, car diagnostic tools, OBDII Code scanners, car key programmers, heavy duty scanners, locksmith tools etc.
Besides, we are the agent for many original brand such as Autel, Xhorse, OBDstar, VXdiag, XTOOL,Launch,CGDI, Yanhua ect.