Product Description
GODIAG Kinetic Recovery Tow Rop 2.5CM Diameter 14Tons Pulling Force With Soft Shackle Gloves 20ft/6M for Jeep/ATV/SUV/UTV/Truck/Field Rescue

Promotion for US Customers: Order over $100, please contact online customer service to get free Tow Rop. Shipping will be arranged from our Amazon US warehouse. Limited 10pcs Only!!!
Please add Whatsapp +86 18054815707.

This car tow rope is made of high-strength polyester and nylon so it has good ductility. The rope is treated with special technology, which made it wear-resistant and scratch-resistant. After being stressed, this car tow rope can effectively reduce the vibration between the two vehicles.
The product is equipped with two pieces soft shackle, which can quickly connect the vehicle and the rope, and can be easily disassembled. The diameter of the tow rope reaches 2.5cm, and the pulling force value reaches an astonishing 14 tons, which can be used for different towing services.(Please note that general vehicles are only about 1.2-4 tons, including large SUVs.)
When to Use This Car Tow Rope?
The car cannot be started: the battery loss, accidents, tire changes, oil changes, and high vehicle water temperature all might cause the car start failure.
The car cannot be driven: the tire blows out, the water temperature alarms, the fuel runs out, the vehicle is stuck in a muddy pool and cannot be driven.
No repair station: the car breaks down, the date is ruined, the fun is lost, and there is no repair station nearby.
Crash: accidents, vehicle collisions that prevent the vehicle from leaving the scene.
Environmental impact: the heavy rain, snow, desert trapping.
Car extreme challenges: the super fun for car lovers, off-road sports challenges.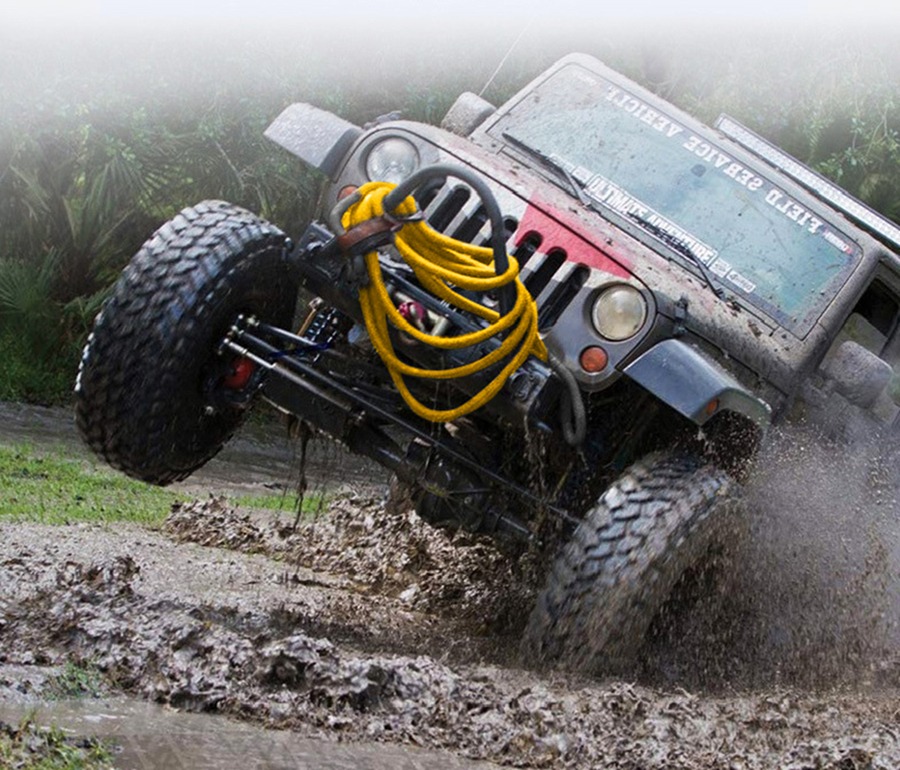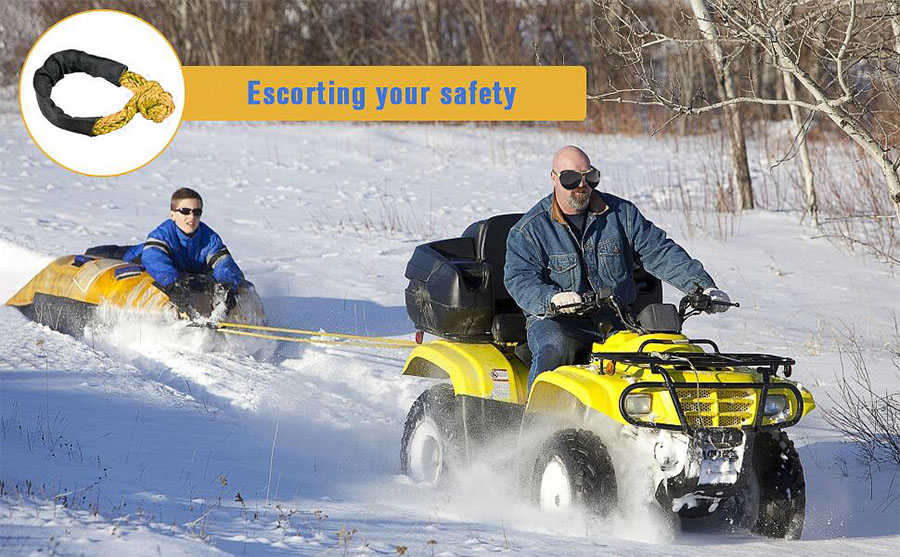 Product Functions:
It can be used for road, snow, desert and muddy road rescue and relief for car failures, traps, vehicle accidents, etc.
It can also be used in many scenarios such as cargo bundling, construction site material lifting, and hoisting.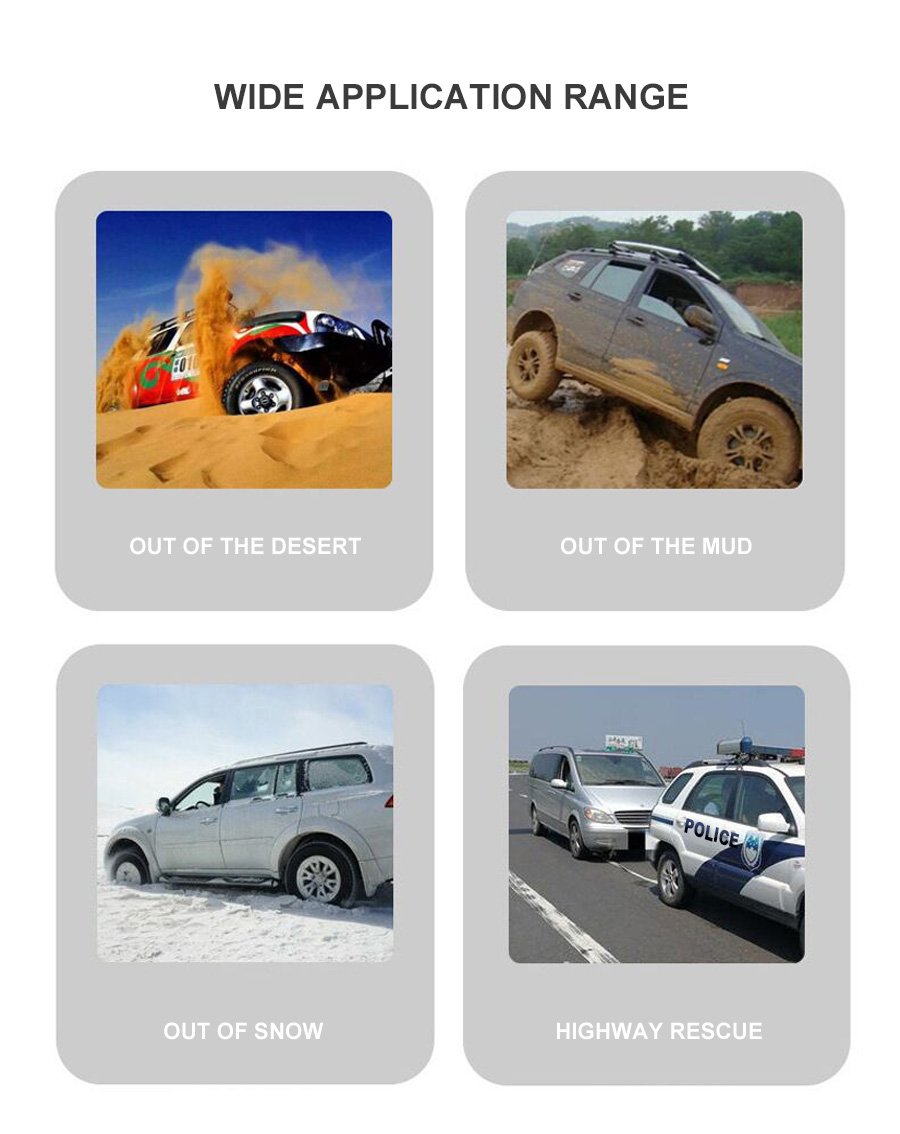 Easy Operation:
1.Install the soft shackle at the towing buckle of the towed vehicle and connect it with the tow rope ring on one end of the tow rope. Use the same way to connect the other end of tow rope with the other towing vehicle in the same way.
2. Please keep a slow start, keep the tow rope straight and drive at a constant speed; when the car in front stops or turns, you need to turn on the lights in advance as a warning, and the car behind should keep synchronous braking or steering with the car in front at all times. Follow these points when towing:
(1) When towing: experienced drivers should drive the car behind, because the car behind is difficult to control, and a slight negligence or improper operation may press the tow rope, or cause a collision accident when turning.
(2) When starting: Because of the extra weight of the back car, the car in front must add more fuel to increase the speed of the engine, and then slowly loosen the clutch pedal and let the rope taut before starting. Control your speed while driving, and don't drive at high speeds even if the road conditions are good.
(3) When shifting gears: the tow rope will be loosened accordingly. At this time, the towed car must not hit the brakes. Otherwise, when the vehicle in front is refueling, the tow rope will suddenly tighten and be impacted. Only when the rope falls to the ground can you lightly step on the brakes.
(4) When going downhill: If the ramp is very long, you can untie the rope and let the two cars slide down separately, which is safe. If the ramp is not long, you can keep the tow rope between the two vehicles. You can lightly step on the brakes of the back car to keep the rope taut at all times.
(5) When parking: lightly presses the front car brakes a few times to give a signal to the back car, and then the back car brakes, and both cars stop. When turning, you must pay attention to tighten the rope as much as possible in a large circle, so as to avoid danger.
3. After the towing is completed, remove the soft shackle and put away the tow rope for the next use.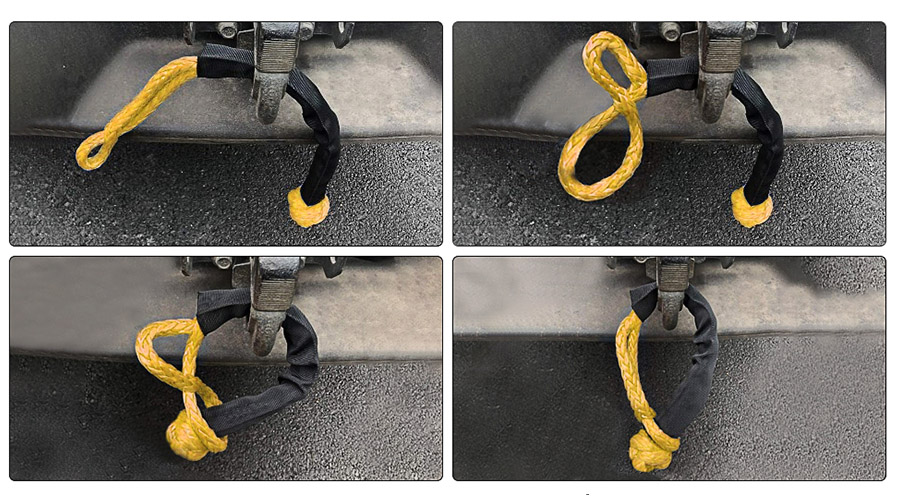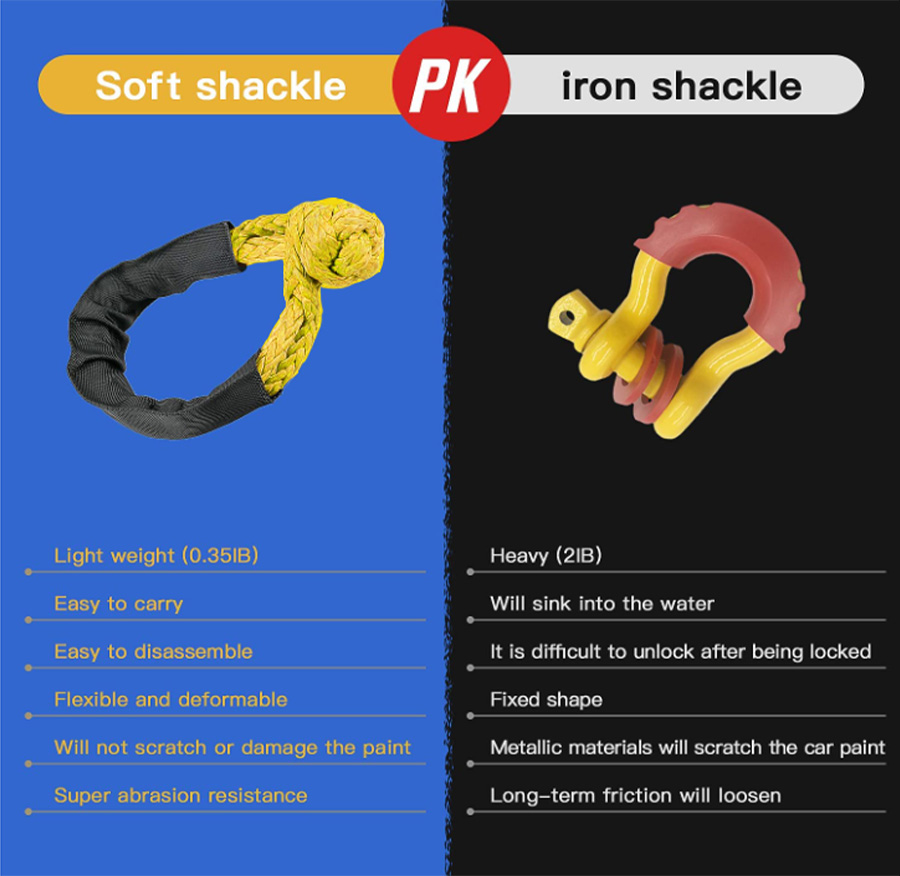 Instructions for Use:
1. Do not exceed the Max pulling force value.
2. The tow rope with damaged structure cannot be repaired and used.
3. When the trailer is towed, it should be pulled slowly and taut, not extremely fast.
4. Check frequently to ensure that the tow rope can be used normally.
5. Tie a towing warning strip in the middle of the trailer rope as an identification mark.
Product Specifications:
Length: 20ft (6M )
Diameter: 2.5CM
Color: yellow+black
Material: polyester, nylon
Product weight: 3630g
Package Includes:
1pc x tow rope,
2pcs x soft shackle,
2pcs x gloves,
1pc x tool bag
1)DHL Shipping and Other Express Service:
Take About 5-7 working days
DHL will be the default delivery method
To help you clearance we will help declare a lower price on the invoice to help clearance.
If address is remote area, you need pay remote freight 45 USD or we will ship by Normal Post or Yanwen/EMS/Aramex Express.
For some eu countries, there might be customs duty problem, if you have any special rquest on this, you can email to inform us your suggestions.
2)Yanwen Express:
Take About 7-10 working days, No Tax Problem
Usually No Tax for European Countries or Remote Area. The tax was pre-paid, when package reached, there's no tax no extra fee for customers.
Due to high custom tax in European Countries, Like Canada, Germany, Greece, Romania, Sweden, France,etc, we will use Yanwen express as first option, if you will need faster DHL shipment, please contact us, thank you.
3)Normal Registered Airmail Post way
Take About 10-16 working days, Sometimes will be 20 days.
Registered Airmail Includes Netherlands Post, USPS Post, Singapore Post, Hongkong Post, etc
Order amount less than 150USD, and package weight less than 2KG will be sent by Registered airmail.
But if you feel it is really slow, and want us to send by DHL, you can choose "Premium Delivery" and pay for the extra shipping for express service. finally we will send it by DHL.
2. UK, US, EU Warehouse Shipping:
Item title marked "Ship from US"
Take About 3-5 working days, Free TAX, faster shipping with cheaper price.
Note: If US/UK Stock sold out, your order will be shipped from China via DHL or YANWEN (No Tax) by default.
We have stocked up hot sale items in US, UK, Amazon US, and EU Warehouse, which is more convenient for you.
EU Warehouse was located in Germany/Czech and it only can ship to EU country:
Germany, France, Spain, Netherlands, Finland, Sweden, Austria, Belgium, Bulgaria, Croatia,
Czech Republic, Denmark, Estonia, Greece, Hungary, Ireland, Latvia, Lithuania,Luxembourg,
Malta, Poland, Portugal, Republic of Cyprus, Romania, Slovakia, Slovenia,5-7 DaysRoyal Mail/ DHL
After-sale service:
We can offer you lifetime customer service and tech support.
If you have any problems, please Provide error image or video to show the problem, and kindly describe it in detail, technician will try their best to help you solve the problem. If there are no solution, you can return it for refund or get a new one for replacement.
For any question, please contact us at:
OBD2EShop OBDII tool online supplier
Accepting bulk purchases, We can Offer you wholesale price.
OBD2EShop is a OBDII tool online supplier providing best-quality ECU chip uning tools, car diagnostic tools, OBDII Code scanners, car key programmers, heavy duty scanners, locksmith tools etc.
Besides, we are the agent for many original brand such as Autel, Xhorse, OBDstar, VXdiag, XTOOL,Launch,CGDI, Yanhua ect.