Product Description
CAN Filter is designed to support old mileage data blocking on Mercedes-Benz vehicles. It is designed to prevent regeneration of the old mileage state in vehicle dashboard (odometer). CAN filter doesn't interrupt any vehicle electronic system, there will be no errors or DTC's after install.
This Mercedes-Benz can filter should be added to car after odometer adjustment for most chassis model, EXCEPT for W222/W205/W447,those 3 chassis models should add can filter before odometer adjustment.
Yanhua MB CAN Filter 18 in 1 Benz/BMW Universal filter
Applicable vehicle list:
1. Benz 18 types chasis model:
S(222), S(221), C(205), C(204), V(W447), E(W212), E(W207), A(W176), G(W463), ML(W166), SL(R231), GL(X166), B(W246), CLS(W218), SLK(R172), SLS(W197), CLA(W117), GLK(X204)
BMW:CAS4/FEM Fxx
2. BMW Model:
BMW 1 series F2X, 3 series F3X, BMW X5 etc., FEM mileage adjustment
BMW 5 series F10, 7 series F01/02 etc., CAS4 Fxxchassis.( F01, F02, F07, F18, F10, F20, F25, X3 etc., applicable for 9S12 XEP series 5M48H/1N35H).
Thisfilteris universal for multiple car models, small and convenient, easy operate, with stable performance and reliability.
Latest Benz / BMW Universal CAN Filter
New style:222/205/217
Old style:166/212/463
CHECK the car model correctly before adjust.
Old style W166 short circuit to GND
New style W222 short circuit to GND
Black wire connect to plug 1
YH Benz / BMW Universal filter --- Diagram for BMW

Below is wiringillustration:
Black --------- GND Red --------- +12V White --------- +5V
Purple -------- L1(CAN_L1) Green --------- H1(CAN_H1)
Yellow --------- L2(CAN_L2) Blue - H2(CAN_H1)
NOTICE! Please connect the 2 BMW dot t--------ogether(short circuit) BEFORE connect to car!



Below is the diagram for BMW 1 series F20 instrument:



Below is the BMW 3 series F30 instrument:
Below is the BMW 3 GT series F30 instrument: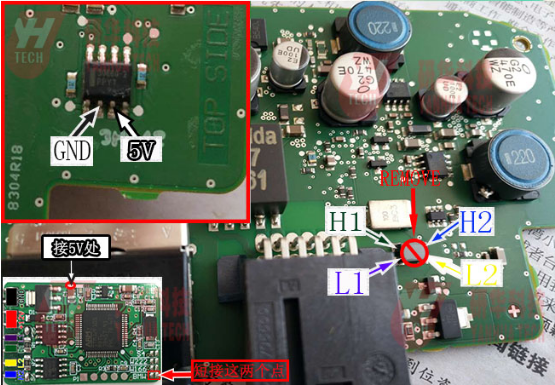 Below is the diagram for BMW X5 F15 instrument:
Below is the diagram for BMW FEM:
Below is the diagram for BMW CAS4(1L15Y/5M48H/1N35H)

Package includeds:
1pc x Yanhua MB CAN Filter 18 in 1 for Benz/BMW Univers alfilter
1)DHL Shipping and Other Express Service:
Take About 5-7 working days
DHL will be the default delivery method
To help you clearance we will help declare a lower price on the invoice to help clearance.
If address is remote area, you need pay remote freight 45 USD or we will ship by Normal Post or Yanwen/EMS/Aramex Express.
For some eu countries, there might be customs duty problem, if you have any special rquest on this, you can email to inform us your suggestions.
2)Yanwen Express:
Take About 7-10 working days, No Tax Problem
Usually No Tax for European Countries or Remote Area. The tax was pre-paid, when package reached, there's no tax no extra fee for customers.
Due to high custom tax in European Countries, Like Canada, Germany, Greece, Romania, Sweden, France,etc, we will use Yanwen express as first option, if you will need faster DHL shipment, please contact us, thank you.
3)Normal Registered Airmail Post way
Take About 10-16 working days, Sometimes will be 20 days.
Registered Airmail Includes Netherlands Post, USPS Post, Singapore Post, Hongkong Post, etc
Order amount less than 150USD, and package weight less than 2KG will be sent by Registered airmail.
But if you feel it is really slow, and want us to send by DHL, you can choose "Premium Delivery" and pay for the extra shipping for express service. finally we will send it by DHL.
2. UK, US, EU Warehouse Shipping:
Item title marked "Ship from US"
Take About 3-5 working days, Free TAX, faster shipping with cheaper price.
Note: If US/UK Stock sold out, your order will be shipped from China via DHL or YANWEN (No Tax) by default.
We have stocked up hot sale items in US, UK, Amazon US, and EU Warehouse, which is more convenient for you.
EU Warehouse was located in Germany/Czech and it only can ship to EU country:
Germany, France, Spain, Netherlands, Finland, Sweden, Austria, Belgium, Bulgaria, Croatia,
Czech Republic, Denmark, Estonia, Greece, Hungary, Ireland, Latvia, Lithuania,Luxembourg,
Malta, Poland, Portugal, Republic of Cyprus, Romania, Slovakia, Slovenia,5-7 DaysRoyal Mail/ DHL
After-sale service:
We can offer you lifetime customer service and tech support.
If you have any problems, please Provide error image or video to show the problem, and kindly describe it in detail, technician will try their best to help you solve the problem. If there are no solution, you can return it for refund or get a new one for replacement.
For any question, please contact us at:
OBD2EShop OBDII tool online supplier
Accepting bulk purchases, We can Offer you wholesale price.
OBD2EShop is a OBDII tool online supplier providing best-quality ECU chip uning tools, car diagnostic tools, OBDII Code scanners, car key programmers, heavy duty scanners, locksmith tools etc.
Besides, we are the agent for many original brand such as Autel, Xhorse, OBDstar, VXdiag, XTOOL,Launch,CGDI, Yanhua ect.