Product Description
Product Introduction:
TagFlash is a powerful ECU Programmer that enables the reading and programming of engine control units (ECUs) and transmission control units (TCUs) for various cars, trucks, motorcycles, Marine worldwide from Europe, USA, India, Asia, China etc. It reads and writes EEPROM and flash memory of ECUs i.e Bosch, Marelli, Siemens, Ford, Delphi, Denso, Transtron, Delco, Continental,Motorola, Valeo, Siemens Continental etc. TagFlash read/write ECU in the mode of OBD, on Bench, Boot mode, BDM, and Jtag systems. Its versatility and broad compatibility make it a valuable tool for automotive technicians and enthusiasts.
TagFlash ECU programmer supports BENCH / OBD / BOOT / BDM / JTAG mode Full reading TCU (MICROEEROM), covering 99% brand of car in the market, ECU read/write ok, a partial of TCU read/write ok. Reliable for checksum calculations. Easy to install and use by anyone. Time synchronization is no need.
[EU Delivery] TagFlash ECU Programmer BENCH / OBD / BOOT / BDM / JTAG mode Full reading TCU (MICROEEROM)
Also, ECUHELPshop provide the following service: DTC code Removal, EGR & DPF Removal, IMMO OFF, releasing speed limit, mileage correction, Hot start or Cold Start Vmax, and so on.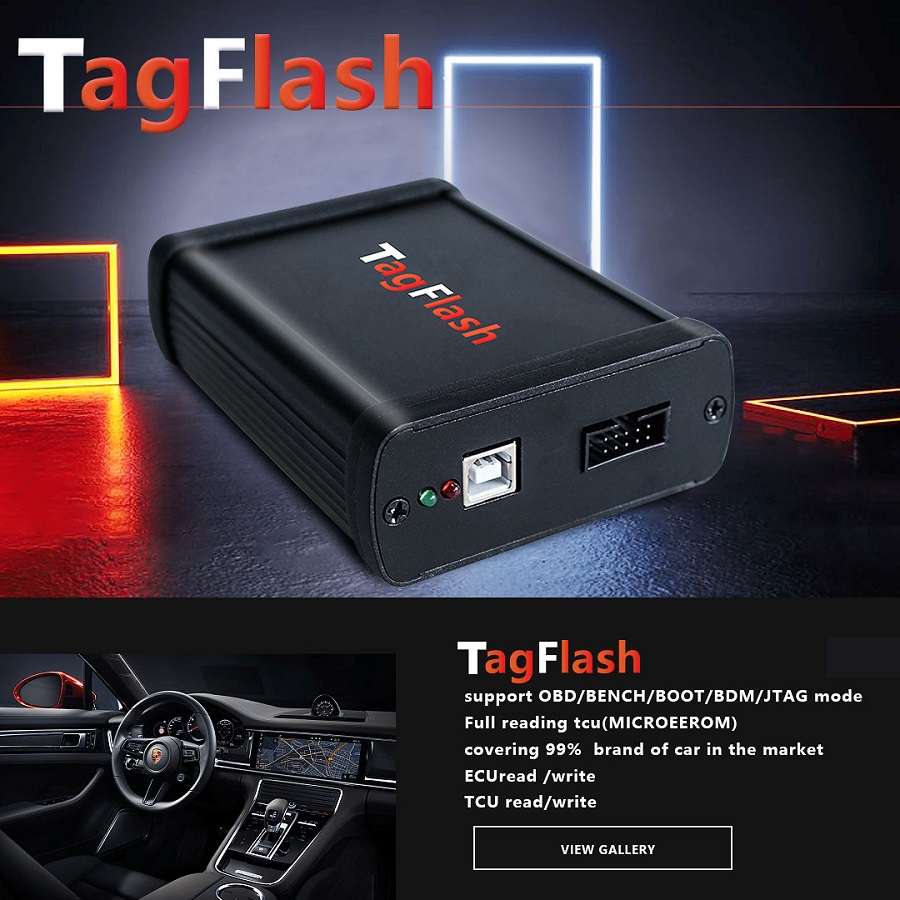 Product Features:
Easy to install and use by anyone.
Time synchronization is no need.
Work in offline mode.
Reliable for checksum calculations.
Read/Write DCM2.7AP, DCM2.7, MD1CS018 (MD1CS018 possible: choose the chip type spc58 to read/write), sid208-sid209 read write on bench ok. dcm7.1b can read via obd ok . dcm6.2v read via obd no problem.
Supported Language: Ltaliano, English, Deutsch, Francais, Espanol, Polish, Portugues, Czech, Romana, Turkish, Hungarian, Russian, Bulgarian, Chinese, Japanese, Korean and Serbian
Product Highlights:

1. This new system developed with high-speed USB2.0 currently the fastest and safest production in the market.
2. It is easy to install and use by anyone.
3. The Driver will always be clickable, the options will not become gray.
4. Time synchronization is no need, it allows for some margin of error.
5. On bench mode, directly identify the chip type before reading/writing .
6. Stable to read / write eeprom & flash via OBD.
7. Checksum calculations: Reliable and Faster
8. Add speed limit off.
9. It is relatively up to date that the protocol is synchronized to the original tools.
10. It is not easy to damage the ecu. It can work directly if it can be written; if it cannot be written, it won't be possible from the beginning.
11.There is no need to restart the software when the software reports an error, and there is a direct reset function in the option.
12. Support working in offline mode.
13. Synchronize Agreements Until April 1st, 2023
14. Stability/Comprehensive: Yes
15. Own Servers in Multiple countries
Compatible Vehicles:

Car
Truck
Tractor/Marine
Motorbike
Read / Write ECU
Read /Write TCU (a part)
TagFlash is confirmed to read/write ECU on many ECU types such as:

DCM2.7AP yes
DCM2.7 yes
MD1CS018 Yes: choose the chip type spc58 to read/write
sid208-sid209 read write on bench ok.
dcm7.1b can read via obd ok
dcm6.2v read via obd no problem
TagFlash is not able to read/write:
Sim2k260 NO
DCM7.1AP No
Free Download TagFlash Software

*** Important Note ***

You MUST disable your anti-virus and firewall in order to download the software, driver and updates. Any active anti-virus will try to delete the files as it does not recognize the file as safe. They are safe but because of language issue it is often seen as a virus and it will delete your files. YOU MUST DISABLE YOUR ANTI-VIRUS AND FIREWALL or you will not be able to download the software properly.
TagFlash Compatible Operation System:
Windows XP 32 64 bit
Windows Vista 32 64 bit
Windows 7 32 64 bit
Windows 8
Windows10
TagFlash Update: Free update
Annual Subscription: No need
5/30V Car, Industrial vehicles, WP
Boot Mode C167,ST10
RS232 RS485
CAN BUS V2.0 50 Kb>10 Nkb
J1850 VPW PWM GM-FORD
BDM MPC5XX
BOOT MODE TRICORE
Auto setup Pull up K-ine 250,500,1000 ohm
Auto setup termination Can bus 0,60,120ohm
Master
Recovery mode
Checksum automatic
Look at the screen of TagFlash Software:
Available with options: Car, Truck, Tractor/Marine, Motorbike, Full Mode, Recondition, Tool Boot, Bench Mode,BDM/JTAG.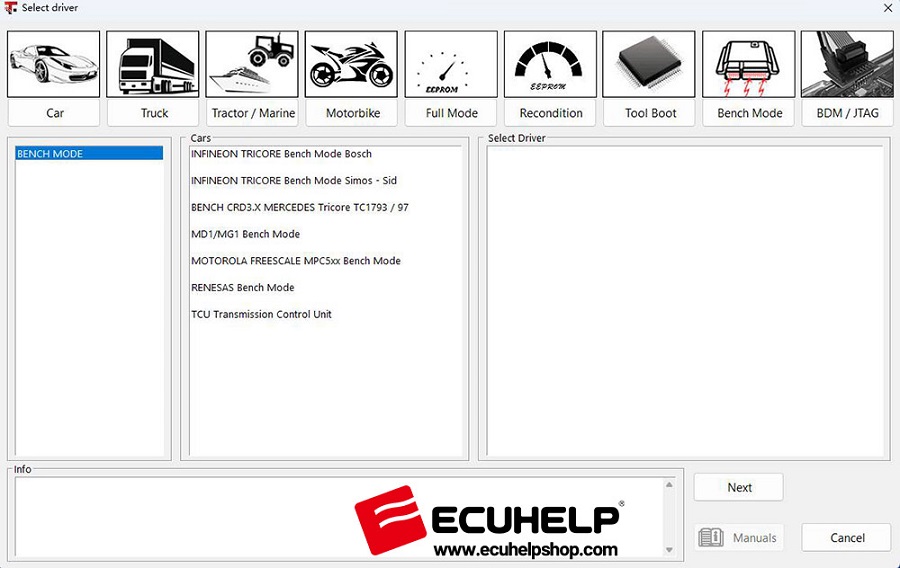 TagFlash Motorbike ECU List: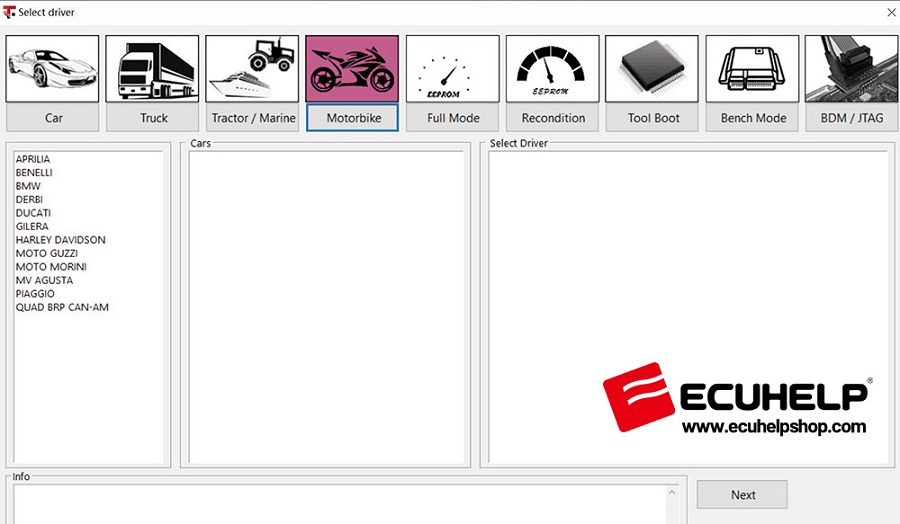 Reading DCM2.7AP: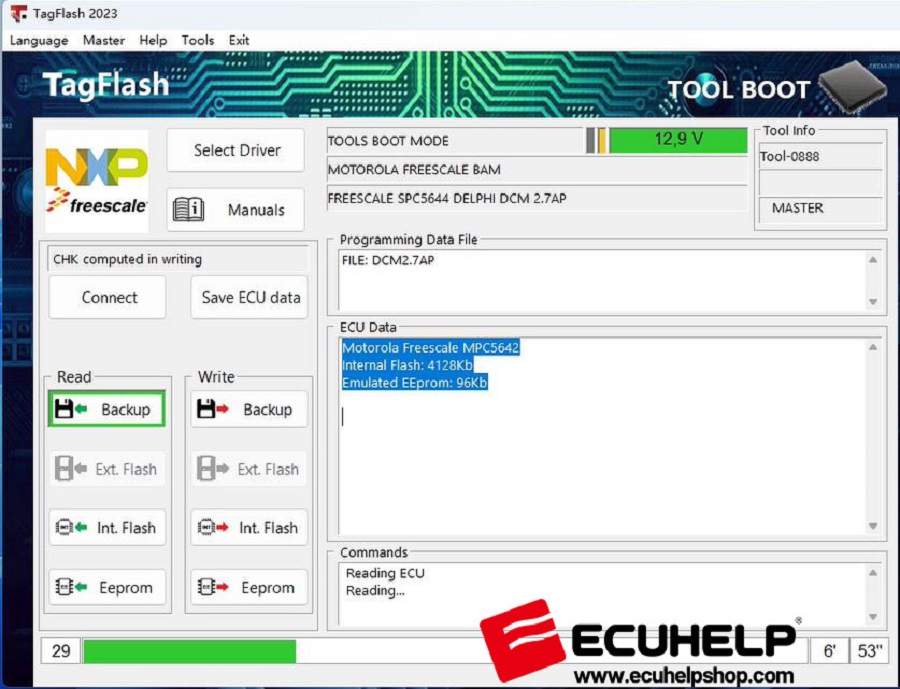 FAQs

Q: I can install in same pc.. Together with Kt200? Or we need Kt200 uninstall..?
A: Yes, you can install both TagFlash and KT200 in same PC, but need to switch the driver.
Q: Does TagFlash support online VR reading/writing?
A: Sorry, not support.
Q: Does TagFlash offline mode need one extra offline dongle?
A: yes, it needs.
Q: Will TagFlash be connected to the computer when installing the driver?
A: yes, it needs.

Package Includes:

1pc x TagFlash ECU Programmer
1)DHL Shipping and Other Express Service:
Take About 5-7 working days
DHL will be the default delivery method
To help you clearance we will help declare a lower price on the invoice to help clearance.
If address is remote area, you need pay remote freight 45 USD or we will ship by Normal Post or Yanwen/EMS/Aramex Express.
For some eu countries, there might be customs duty problem, if you have any special rquest on this, you can email to inform us your suggestions.
2)Yanwen Express:
Take About 7-10 working days, No Tax Problem
Usually No Tax for European Countries or Remote Area. The tax was pre-paid, when package reached, there's no tax no extra fee for customers.
Due to high custom tax in European Countries, Like Canada, Germany, Greece, Romania, Sweden, France,etc, we will use Yanwen express as first option, if you will need faster DHL shipment, please contact us, thank you.
3)Normal Registered Airmail Post way
Take About 10-16 working days, Sometimes will be 20 days.
Registered Airmail Includes Netherlands Post, USPS Post, Singapore Post, Hongkong Post, etc
Order amount less than 150USD, and package weight less than 2KG will be sent by Registered airmail.
But if you feel it is really slow, and want us to send by DHL, you can choose "Premium Delivery" and pay for the extra shipping for express service. finally we will send it by DHL.
2. UK, US, EU Warehouse Shipping:
Item title marked "Ship from US"
Take About 3-5 working days, Free TAX, faster shipping with cheaper price.
Note: If US/UK Stock sold out, your order will be shipped from China via DHL or YANWEN (No Tax) by default.
We have stocked up hot sale items in US, UK, Amazon US, and EU Warehouse, which is more convenient for you.
EU Warehouse was located in Germany/Czech and it only can ship to EU country:
Germany, France, Spain, Netherlands, Finland, Sweden, Austria, Belgium, Bulgaria, Croatia,
Czech Republic, Denmark, Estonia, Greece, Hungary, Ireland, Latvia, Lithuania,Luxembourg,
Malta, Poland, Portugal, Republic of Cyprus, Romania, Slovakia, Slovenia,5-7 DaysRoyal Mail/ DHL
After-sale service:
We can offer you lifetime customer service and tech support.
If you have any problems, please Provide error image or video to show the problem, and kindly describe it in detail, technician will try their best to help you solve the problem. If there are no solution, you can return it for refund or get a new one for replacement.
For any question, please contact us at:
OBD2EShop OBDII tool online supplier
Accepting bulk purchases, We can Offer you wholesale price.
OBD2EShop is a OBDII tool online supplier providing best-quality ECU chip uning tools, car diagnostic tools, OBDII Code scanners, car key programmers, heavy duty scanners, locksmith tools etc.
Besides, we are the agent for many original brand such as Autel, Xhorse, OBDstar, VXdiag, XTOOL,Launch,CGDI, Yanhua ect.